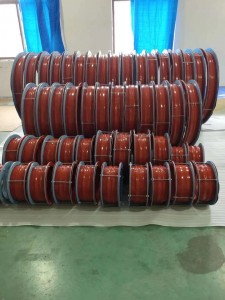 What are the characteristics of the silicone cloth expansion joint in terms of material?
The expansion joint of silicone cloth makes full use of silicone rubber. Silicone cloth is a special rubber containing silicon and oxygen atoms in the main chain, and the main function is silicon element. The main feature is that it is resistant to both high temperature (up to 300°C) and low temperature (down to -100°C). It is currently a better cold-resistant and high-temperature-resistant rubber; at the same time, it has excellent electrical insulation and high stability to thermal oxidation and ozone. Chemically inert. It is mainly used for bearing high and low temperature resistant products. The silicone rubber added with environmentally friendly flame retardant has the characteristics of flame retardancy, low smoke, non-toxic, and so on.
The main application range of silicone cloth expansion joint:
1. Electrical insulation: Silicone cloth has a high electrical insulation level, can withstand high voltage loads, and can be made into insulating cloth, casing and other products.
2. Non-metallic compensator: It can be used as a flexible connection device for pipelines. It can solve the damage to pipelines caused by thermal expansion and contraction. Silicone cloth has high temperature resistance, corrosion resistance, anti-aging performance, good elasticity and flexibility, and can be used Widely used in petroleum, chemical, cement, energy and other fields.
3. Anti-corrosion: It can be used as the inner and outer anti-corrosion layers of pipelines, and has excellent anti-corrosion performance and high strength. It is an ideal anti-corrosion material.
4. Other fields: Silicone cloth expansion joint can also be used in building sealing materials, high temperature anti-corrosion conveyor belts, packaging materials and other fields.
Features and properties of silicone cloth expansion joint material:
The full name of the so-called silicone cloth should be Pinyi Silicone Glass Fiber Composite Cloth, which is made of two main raw materials, with high strength and high temperature resistant glass fiber cloth as the base cloth, then compounded with silicone rubber skin, and vulcanized at high temperature , processed into finished products.
Silicone cloth is a new product of high-performance and multi-purpose composite materials. Silicone cloth has the advantages of flame retardant, fire prevention, high temperature resistance, anti-corrosion, anti-aging, etc., and its texture is relatively soft, suitable for flexible connections of various shapes.
Silicone cloth can be used in a wide range of temperatures, and can be used for a long time at -70°C (or lower temperature) to +250°C (or higher temperature). Has been widely used in aerospace, chemical industry, large-scale power generation equipment, machinery, steel plants, metallurgy, non-metallic expansion joints (compensators) and other fields.
Therefore, the expansion joint made of silicone cloth is mainly used in high-temperature places, and it can still be used when the temperature is as high as 1300°C. Used for high pressure, corrosion resistance, aging resistance, used in outdoor places and places with moisture in the air.
Product features of silicone cloth expansion joint:
1. Multi-directional compensation: expansion joint can provide larger axial, angular and lateral displacement in a smaller size range.
2. No reverse thrust: the main material is glass fiber fabric and its coated products, and there is no power transmission. The use of expansion joints can simplify the design, avoid the use of large brackets, and save a lot of materials and labor.
3. Noise reduction and shock absorption: Fiber fabric and thermal insulation cotton itself have the function of sound absorption and shock absorption, which can effectively reduce the noise and vibration of boilers, fans and other systems.
4. Excellent high temperature resistance, corrosion resistance and sealing performance: it is coated with polymer materials such as organic silicon and cyanide, and has excellent high temperature resistance, corrosion resistance and sealing performance.
5. Easy installation and maintenance.
6. Silicone rubber and glass fiber cloth are compounded, which has the characteristics of high thermal insulation performance, shock isolation and noise reduction, (high) low temperature resistance, corrosion resistance, pressure resistance, simple structure, light weight, and easy installation and maintenance.
---
Post time: Dec-01-2022